This is the MAC OS X version.
Click here for the Windows version!

Includes: Halloween 3D Aquarium, Christmas 3D Aquarium and more!

Version 1.0.1 for MAC OS X 10.3 or higher - 17/11/2006
UNIVERSAL BINARY VERSION
By
Robert Bennett
Please note: NEVER link directly to the files listed below, always link to this page. These files will move due to bandwidth restrictions, but this page will always have the latest links.
Click here to download!

---
REGISTER NOW FOR JUST US$9.95!
It takes endless hours of work to produce nifty 3D screen savers at the high quality you have come to expect from Useless Creations, and all we ask in return is a very small fee! Compare it to other places, and we're sure you'll agree that you get far more bang for your buck right here! Without your support we wouldn't be able to keep bringing you screensaver after nifty screensaver. So as long as you keep supporting our work, we'll keep working tirelessly to help you avoid doing any work by watching your screen for hours on end!
When you register the Ultimate 3D Aquarium Screen Saver, you get:
More fish! You'll be able to download and add more fish to your aquarium with ease. See the instructions below.
More 3D background scenes! You can also download new fully 3D environments for your fish to enjoy! Again, see the instructions below.
No fish restrictions! At the moment you're stuck with only 4 fish, and only 2 different types. When you register you can have as many as your CPU can handle, and there's loads more species for you to download and enjoy.
No nag screens! Nothing pops up at the start, nothing pops up in the corners, nothing pops up at all. All you get is the action!
But more importantly, you'll help support Useless Creations, which means I'll be able to keep developing nifty screen savers for Mac OS X!
All this for just US$9.95! How can you resist?!
Click here for all the details.
---
How To Download New Fish And Backgrounds (Registered Version Only)
To get to the download screen, click on the "Download New Fish And Backgrounds" tab on the screen saver Options screen. With the trial version, all you can do on this screen is check which fish and backgrounds are available. With the registered version you can actually download them, all you need to do is follow the steps on screen. Closing the settings sheet while any downloads are in progress will cancel the current download, and of course, you need to be connected to the internet to be able to download new fish.
After downloading a fish or background, the screen saver needs to be restarted for the new stuff to be available.
The button at the bottom lets you set where the downloaded fish files are kept on your machine. The screen saver will create a default directory for you when it runs, however you are welcome to change it. Remember though, if you change the directory the screen saver will not be able to find any fish in the previous directory, and you will need to give any users who are going to use the screen saver permission to at least read from the folder so they can use the data files, and they will need write permission if you want to allow them to download fish aswell.
Because I've been asked a lot, here's a quick note: If you get an error saying "Download Failed - Error! Cannot Create File http://" it means that it can't save the fish file, usually because you do NOT have full read/write access to the folder (as it says you need above). So you need to make sure you have access to that folder it's using, OR you can create a new folder somewhere you know you have full access to, such as under your home directory. Then click that button at the bottom of the settings and tell the screen saver where you new folder is. Then you should be fine.
The following fish are currently available for this screensaver (See above for instructions). New fish will be added as often as possible, so check back regularly!
Please note: These add-ons only work with the full registered version. Info on registering is just above on this page.

Clown Fish - v1.1
(Salt/Warm Water - Included with screensaver)

Long Beaked Butterfly Fish - v1.1
(Salt/Warm Water - Included with screensaver)

Wakin (Common Goldfish) - v1.1
(Fresh/Cold Water)

Black Moor (Black Goldfish) - v1.1a
(Fresh/Cold Water)

Yellow Tailed Clown Fish
(Salt Water)

Angel Fish
(Fresh Water)

Blue Tang (Palette Surgeonfish)
(Salt Water)

Neon Tetra
(Fresh Water)

Turquoise Discus - v1.1
(Fresh/Warm Water)

Harlequin Tuskfish
(Salt Water)

Red Lionfish
(Salt Water)

Ryukin (Goldfish)
(Fresh Water)

Pennant Coralfish
(Salt/Warm Water)

Kissing Gourami
(Fresh/Warm Water)

Yellow Boxfish
(Salt/Warm Water)

Emperor Angelfish
(Salt/Warm Water)

Scissortail Segeant
(Salt/Warm Water)

Threadfin Butterflyfish
(Salt/Warm Water)
More Soon!
More Soon!
More Soon!
---
Release Notes
From the moment I released the Something Fishy: 3D Desktop Aquarium screensaver last year, I started getting requests for an aquarium screensaver with "proper backgrounds". But the Desktop Aquarium was meant to be exactly that, an Aquarium made out of your Desktop. That's why it shows your current screen in the background and gives the effect that your monitor is filled with water.
However, I did like the idea of a proper 3D aquarium. Almost all aquarium screensavers are basically flat! The fish swim side to side and the camera never moves because the backgrounds are basically created out of flat images. They can look really good, but they get a bit boring if you ask me. So I started working on a whole new aquarium screensaver with proper 3D environments. But better than that, I made it so you can download new environments, just like you can download additional fish! I don't know of any others that let you get new fish so easily, let alone whole new 3D environments for your fish to swim around!
I've also made it so that the camera can move, very slowly, around and through the environment, just to show off the fact that it's all really 3D. I've designed the tanks to be viewed from different angles, so the camera will move around and stop in certain spots so you can watch the fish. I'm loving this thing!
The hardest part has been trying to stop the fish swimming thru the environment. I've spent months trying to train them to go around things, but they don't always listen. I bet if I didn't mention it you wouldn't have even noticed, but for those of you who were about to email asking why they occasionally swim thru things, I just wanted to say that I'm still working on it. I am quite happy with the way they move now, so I wanted to release this thing and see if you guys liked it. But I am continuing to work on the collision detection.
My aim with the downloadable 3D background scenes is to give you an aquarium that can have different themes depending on the time of year. So for Halloween you have the fish swimming around a cemetery, for Christmas you have the fish swimming around a snowy village or whatever, and so on and so on. That way you can have the same basic screensaver all year round without getting tired of it!
The Ultimate 3D Aquarium Screen Saver is the first fully 3D aquarium screen saver in the world to give you all these features, and it's still priced and the usual Useless Creations ridiculous cheapness! Gotta love that!
Enjoy!
---
Version History
v1.0 - 13th October, 2005 - Original Release
Real time 3D fish swim around a real time 3D environment.
Additional fish and 3D background themes can be downloaded and added to the full version.
Camera moves through the 3D fish tank environment.
Fish avoid swimming into obstacles.
Fish cast shadows on the environment (requires compatible video hardware).
---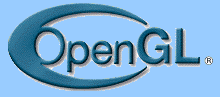 Brought to you thru the endless magic of OpenGL!