This is the WINDOWS version.
Looking for the Mac OS X version? Click here!

Version 1.0 for WINDOWS - 01/12/2008
By
Robert Bennett


Please note: NEVER link directly to the files listed below, always link to this page. These files will move due to bandwidth restrictions, but this page will always have the latest links.
Click here to download!
---
REGISTER NOW FOR JUST US$9.95!
It takes endless hours of work to produce nifty 3D screen savers at the high quality you have come to expect from Useless Creations, and all we ask in return is a very small fee! Compare it to other places, and we're sure you'll agree that you get far more bang for your buck right here! Without your support we wouldn't be able to keep bringing you screensaver after nifty screensaver, which includes our cool free offerings as well as our even cooler shareware stuff. So as long as you keep supporting our work, we'll keep working tirelessly to help you avoid doing any work by watching your screen for hours on end!
When you register the Santa and the City 3D Screen Saver, you get:
The full, registered, unrestricted version of one of the niftiest screensavers on the planet!
An amazingly detailed 3D city to fly thru! With an extra sky not included in the trial!
3D Sound effects, so you can hear the sleigh bells as Santa flies past the camera!
Over 50 Christmas tunes as optional background music, to drive your co-workers insane!
The closest you'll get to cruising with Santa in his sleigh, spreading Christmas cheer thru the big city!
No nag screens! Nothing pops up at the start, nothing pops up in the corners, nothing pops up at all. All you get is the action!
But more importantly, you'll help support Useless Creations, which means I'll be able to keep developing nifty screen savers for Windows and Mac OS X!
All this for just US$9.95! How can you resist?!
Click here to register now!
---
RELEASE NOTES
I'm gunna say this right off the bat, I LOVE this screensaver. It's been a long time since I've just sat and watched one of these things for so long! Which is why it's taken so long to finish...
The city is amazing, and all the views are real time 3D boys and girls, no pre-rendered nonsense here! This is a true 3D experience!
I figured it was time for a new Christmas inspired screensaver, but I wanted to do something a little bit spectacular, like I said, I love it, so I hope you all do too!
Something that's a bit of a first is full 3D sound using the OpenAL library. I nearly didn't bother adding this, but I'm so glad I did! The wind and sleigh bells add so much atmosphere! Hopefully I'll be able to add sound to more stuff in the future, because it really work here.
Christmas stuff has been in the shops since Easter, bah humbug! But this is just Christmassy enough for my liking, not too sappy or over the top. Kinda realistic too, so it's not cartoony like "A Very 3D Christmas Screen Saver" which is still available if you'd prefer.
Anyway, I keep being distracted by watching the screensaver to be able to write a good description. Download it and see for yourself!
Enjoy!
---
VERSION HISTORY
v1.0 - 1st December, 2008 - Original Release
Fly with Santa thru an amazingly detailed 3D city.
All real-time 3D graphics, for a truly 3D experience!
3D sound effects for extra atmosphere.
Over 50 Christmas carols as optional background music.
---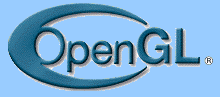 Brought to you thru the endless magic of OpenGL!