Version 1.0 - 21/03/2003
By
Robert Bennett
Rob@UselessCreations.com Please note: NEVER link directly to the files listed below, always link to this page. These files will move due to bandwidth restrictions, but this page will always have the latest links.
Click here to download (740kb)
---
Click here to download the old, old Voyager 3D Screensaver (91k)
---
Settings
To get to the settings screen go to Display options in Control Panel and
in the Screen Saver section click on Settings.
The following configuration options are available. (It is recommended that you play with the options to find what runs best on your PC and what you think looks best):
Type of Starship: This lets you select whether you want a random ship, or you want to select a specific ship to always be the one flying around. The ships available in this version are: Enterprise NX-01 from Enterprise, Enterprise NCC-1701A from Star Trek IV - VI, and the Enterprise NCC-1701D from Star Trek: The Next Generation and Generations.
Star Density: This controls how many stars are displayed in space in the background. Higher looks better but it may run slower depending on your system.

---
Release Notes
Ages ago now I did the old Voyager screensaver, some people liked it, some people complained about it. But even tho it looks a bit old now, I still think it was kind of cool.
But because of problems with Star Trek fans complaining to me about it I decided to stop working on it.
Then late last year I did a new one with the new Enterprise (or old one depending on how you look at it) from the Enterprise series. I did it simply because I liked the series.
This time tho I don't think I got a single complaint. Maybe whatever I'd done "wrong" on the Voyager one I'd managed to fix, or maybe in the time between Star Trek fans had mellowed a bit. Whatever it was I was glad to get some nice emails from Star Trek fans for a change.
I didn't plan on updating the Enterprise 3D Screensaver since there wasn't really anything I could see that needed doing to it. It was nice as it was. But recently I had some wierd-ass virus that gave me skull cracking headaches and I needed something simple to take my mind off it. So what I did was sit down and make some new ship models that were easy to plug into the Enterprise screensaver.
And this is what I've come up with. Rather than updating the Enterprise screensaver I've made a new one that's based on the same kind of thing. The difference is that you can select which ship you want to warp around, or have a random one each time it starts.
At the moment there are just 3 ships, each a different generation of Enterprise: Enterprise NX-01, NCC-1701A and NCC-1701D. All of them look pretty cool if you ask me, so I hope you enjoy them. Since doing the Voyager screensaver I've received requests for me to do a screensaver for all sorts of different ships, but I had hardly any for any of the Kirk era Enterprises. That really surprised me since I thought it was a cool looking ship. So since I was doing ships I wanted to see and not what other people wanted I did the A first, and I think it came out well.
I may or may not add more ships if I get time between other projects. But what they'll be or when, I do not know. Because I've had problems with rabid Star Trek fans in the past I'm just going to say that I don't want suggestions. I'll add whatever ships I decide I want to, if I ever decide to add any. Maybe one day I'll add some sort of battles between ships, but again, don't hold your breath. I don't mean to be nasty, but you have the crazy Star Trek fans who bombarded me with abusive complaints about Voyager to thank for it.
If you spot any bugs, let me know!
Enjoy!
---
Version History
v1.0 - 21st March, 2003 - Original Release
Based on my old Enterprise and Voyager screensavers.
Displays starships from Star Trek warping around the universe in 3D.
Ships include: Enterprise NX-01, Enterprise NCC-1701A, Enterprise NCC-1701D.
---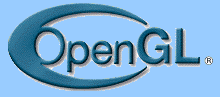 Brought to you thru the endless magic of OpenGL!
---
Star Trek and everything related is Copyright Paramount Pictures.