This is the WINDOWS version.
Looking for the Mac OS X version? Click here!

Version 1.0 for WINDOWS - 20/07/2005
By
Robert Bennett


Please note: NEVER link directly to the files listed below, always link to this page. These files will move due to bandwidth restrictions, but this page will always have the latest links.
Click here to download! (just 327kb!)
---
REGISTER NOW FOR JUST US$5!
Register now to get rid of all the annoying nag messages that pop up!

There are 2 ways to get the full registered version of this screen saver:
You can register just this screen saver for just US$5 and just get rid of the nag-screens from this screen saver, OR you can register UC3D and get full access to all past, present and future UC3D v1 screen savers for the one low price!! Click here for all the UC3D info.
---
RELEASE NOTES
Well, I was stunned at just how popular the Desktop Puddle screensaver became. People seem to really love seeing their desktop effected by that weird watery effect. So I thought I'd stick with a similar theme, but move on to another of the elements: fire!
This one was a bit trickier. I've been spending all my time reading old fire demo tutorials from the VGA DOS days! Great stuff!
And this is what I came up with. The screen burns away with the niftiest flame I've seen since granny turned 203 and the candles on her cake caused a firestorm. This is definately one for all you pyromaniacs out there. Watching the flames dance around is truly hypnotic.
I've put in a few different burn styles, but the one that's set as default is probably my favourite. The background melt. Leave it for a while and come back and the effect is really cool, in my opinion anyway!
So this is another fairly simple, yet very effective lookin' screensaver. If it's popular, I'll see what I can do with the other elements too!
Enjoy!
---
VERSION HISTORY
v1.0 - 20th July, 2005 - Original Release
Your desktop catches fire and burns away in a variety of different burn styles!
---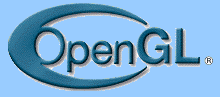 Brought to you thru the endless magic of OpenGL!