This is the WINDOWS version.
Looking for the Mac OS X version? Click here!

Version 1.0 for WINDOWS - 22/02/2008
By
Robert Bennett


Please note: NEVER link directly to the files listed below, always link to this page. These files will move due to bandwidth restrictions, but this page will always have the latest links.
Click here to download!
---
REGISTER NOW FOR JUST US$7.50!
Register now to get rid of all the annoying nag messages that pop up!
The full version gives you a whole lot more bunny related fun!!

There are 2 ways to get the full registered version of this screen saver:
You can register just this screen saver for just US$7.50 and just get rid of the nag-screens from this screen saver, OR you can register UC3D and get full access to all past, present and future UC3D v1 screen savers for the one low price!! Click here for all the UC3D info.
---
RELEASE NOTES
It's taking me a longer than it used to to get new stuff finished and released because of all the other stuff going on at the moment. I wont bore you with details, but I am trying to keep you guys entertained in between the more unpleasant stuff! And so here we have another nifty little screensaver for ya!
I wanted to do a new one for Easter, but last time I did Easter people weren't that interested. It's not as world wide as you'd think boys n girls, and even when it's celebrated it doesn't always include bunnies. However, I thought bunnies would make a fun screensaver. So I decided instead of dropping the bunnies, I'd drop the easter theme. I'm not making much sense am I? Well, what I decided was I'd do bunnies without any reference to Easter. This means if you're a bunny fan you can enjoy it all year round without stuffing your face with chocolate eggs, and if you're an Easter fan you can enjoy bunnies hopping around to remind you of the chocolate egg face stuffing you'll have to endure in the near future. Make sense? Nope, well... it's a fun screensaver anyway!
You start off with just a few bunnies, but when they get close to one another a new baby bunny will appear! Awww how cute, I hear you think in a sickening tone. Well... yes! It's cute! The little ones slowly grow and then breed themselves. They breed like rabbits, people! So your desktop will soon be overrun! Yay!
As always, if you stop any bugs, let me know!
Enjoy!
---
VERSION HISTORY
v1.0 - 22nd February, 2008 - Original Release
Loads of 3D bunny rabbits hop around your screen leaving footprints.
There are only a few rabbits to start with, but they breed and little baby bunnies appear!
Enjoy it for easter, for spring, or just for the sake of bunnies!
---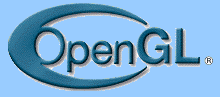 Brought to you thru the endless magic of OpenGL!