This is the WINDOWS version.
Looking for the Mac OS X version? Click here!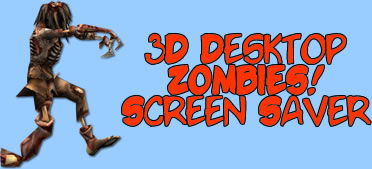 Version 1.0 for WINDOWS - 10/10/2008
By
Robert Bennett


Please note: NEVER link directly to the files listed below, always link to this page. These files will move due to bandwidth restrictions, but this page will always have the latest links.
Click here to download!
---
REGISTER NOW FOR JUST US$9.95!
Register now to get rid of all the annoying nag messages that pop up!
The full version also lets you have more zombies at once, with 18 patterns/colours each!!

There are 2 ways to get the full registered version of this screen saver:
You can register just this screen saver for just US$9.95 and just get rid of the nag-screens from this screen saver, OR you can register UC3D and get full access to all past, present and future UC3D v1 screen savers for the one low price!! Click here for all the UC3D info.
---
RELEASE NOTES
Mmmm brains.
I figured it was time for some new Halloween fun, and I really like this style of screensaver with cool looking creatures roaming your desktop or any image you like.
So this time, it's zombies. They walk and crawl around leaving hand and foot prints. But they also fight cos zombies are always in a bad mood, splashing blood all over the place. Then if they walk thru the blood it changes the colour of their foot and hand prints. Making the whole thing a lot more interesting. They also eat each other. How awesome is that??
I had all sorts of plans for this, adding other characters n stuff, but when I saw the zombies playing by themselves I just kinda liked it. I couldn't stop watching. It's so strange, but they're kinda cute! How is that possible??
Enjoy!
---
VERSION HISTORY
v1.0 - 10th October, 2008 - Original Release
Loads of 3D zombies roam around your screen leaving foot and hand prints.
They fight each other, and eat each other, squirting blood around the place. Nice.
Full version has 18 different zombie styles.
---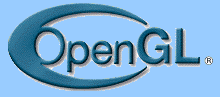 Brought to you thru the endless magic of OpenGL!