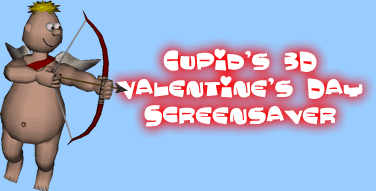 Version 1.2 - 08/01/2006
By
Robert Bennett


Please note: NEVER link directly to the files listed below, always link to this page. These files will move due to bandwidth restrictions, but this page will always have the latest links.
Click here to download!
---
REGISTER NOW FOR JUST US$7.50!
Register now to get rid of all the annoying nag messages that pop up! Not only that, but you will no longer be restricted to just 1 image in your Valentine's slideshow!
There are 2 ways to get the full registered version of this screen saver:
You can register just this screen saver for just US$7.50 and just get rid of the nag-screens from this screen saver, OR you can register UC3D and get full access to all past, present and future UC3D v1 screen savers for the one low price!! Click here for all the UC3D info.
---
UPGRADE YOUR VIDEO DRIVERS
No matter what version of Windows you are using it is recommended that you make sure you are using the latest drivers for your video card. If you have any problems (slow, jerky, crashing, freezing) they can almost always be fixed by simply replacing your outdated drivers.
The latest drivers for your card are available from the manufacturers website. They are always working on upgrading the drivers, so make sure you upgrade them!
Some common manufacturers websites are:
ATI
Matrox
nVidia
PowerVR
---
DESCRIPTION (WHAT'S IT DO?)
This refreshingly unique 3D screensaver displays Cupid as he flies around shooting arrows at loads of 3D hearts that float around your screen, all in amazing real-time 3D graphics! But the real star of Valentine's Day if your Valentine, so you can also set this screensaver to display images of your choice in the background, with the hearts and Cupid floating in front of the pictures.
---
SETTINGS
To get to the settings screen go to Display options in Control Panel and
in the Screen Saver section click on Settings. This brings up the UC3D settings screen where you can set the countdown and display settings. To get to the settings for this screen saver select it in the Installed Modules list and click the button.
The following configuration options are available. (It is recommended that you play with the options to find what runs best on your PC and what you think looks best):
Display Countdown To Valentine's Day: With this turned on a countdown to February 14th of the current year will be displayed.
Background Colour: Click in the box to select the colour you want the background to be.
Use Desktop As Background: With this tuned on the Cat will walk across whatever is currently on your screen, which it turned off he will walk across a screen that is the colour you have selected. PLEASE NOTE: Results may vary depending on your PC's configuration. If you have a crappy video card, it may not be able to handle the resolution you are using so the desktop image may be blurred or just look crappy in general. If you are using an OLD operating system such as 95/98/ME you may also have problems. All I can suggest is to try it and see. If you don't like how it looks, turn it off.
Blank Background: With this selected the background will just be the blank background colour as selected above.
Display Pictures In Background: This lets you display pictures of your Valentine (or anything else) in the background. The hearts and Cupid will fly around in front of them. (Note: Only one picture is displayed in the trial version. In the registered version they change. Also please note that there may be a slight pause as the pictures load. Using smaller pictures reducdes this pause.)
Picture Folder: Clicking this will open up a dialog for you to select the folder that contains your jpg, gif and bmp images that you want to be displayed.
Delay Between Pictures: Set's how long each picture is displayed before it changes to another one.
Stretch Pictures To Fit Screen: With this turned on the pictures will be sized to cover the screen (while maintaining the correct aspect ratio), with this turned off the pictures will be displayed in their normal size in the centre of the screen.
Number of Hearts: Set how many hearts are floating around the screen. Setting this lower may speed up the screensaver on slower machines.
Transparent Hearts: With this turned on the hearts will be partially see-thru, so you can see the background pictures through them. Turning this off means the hearts will be solid, and can speed up the screensaver on slower machines.
Allow Collisions: Turn this on if you want the hearts to bounce off each other. Turning this off means they will go through each other, and it may run faster on slower machines with it turned off.
Heart Colour: Click the box to bring up a colour selection dialog that lets you choose what colour you want the hearts to be.
Random Shades of Pink/Red: This overrides the above setting and displays the hearts in random shades of pink and red.
---
HOW DO I DISPLAY IMAGES?
It's easy! Put all the jpg, gif and bmp files you want to display in a folder somewhere on your PC and remember where you put them.
Now go to the screensaver settings as explained above.
Once on the settings screen for Cupid's 3D Valentine's Day Screensaver, click the little button next to "Display Pictures In The Background" so that it's turn on. Then click the big button below that next to "Picture Folder".
A dialog box will open up that lets you select a folder. Find the folder with your images in and select it. Then click OK.
And that's it. If you have selected a folder with the correct type of images in it (jpg, gif or bmp) the screensaver will now display them. You can now set the picture delay and other options to whatever you like!
---
USELESS RELEASE NOTES
Just a quick update to add/fix some stuff I didn't get around to last year.
I've added a countdown to Valentine's Day so the UC3D countdown date doesn't need to be reset each year (unless you wanna do it that way), and I've taken the message about displaying pictures off for people who have registered UC3D. There's also a few other small things that you don't need to know about. There weren't many bugs in this one, which is a nice change!
If you do spot any more probs, feel free to let me know!
Enjoy!
---
USELESS RELEASE NOTES (v1.0)
Last year I had a lot of people asking me to make them a nice, sappy Valentine's Day screensaver, but at the time I was busy working on my Easter screensaver, so I never got it done. This year I had what I think is a pretty cool idea, I made a really cute 3D Cupid, and I decided I no longer had any excuse not to make a good Valentine's Day screensaver. And here it is!
Cupid flies around shooting 3D hearts. It sounds more simple than it was to make, believe me! But I also figured that the real star of Valentine's Day isn't Cupid, it's whoever you happen to have as your Valentine. So I've made it so you can display images in the background of the screensaver, with the action happening in front of them (see instructions above). It could also be used to display your collection of ACDC images, if you're a fan of ACDC. Or images of the person your stalking. Or even better, images from your wedding. Or anything else you want!
This is another shareware release, and I hope you like it. Even tho the poor value of the US dollar is killing me, I still haven't put my prices up. So for now you can register this thing for just US$7.50! I still haven't seen any others that cheap. Maybe I'm just stupid!
You can register online and get the full version almost instantly by going to:
http://www.UselessCreations.com/cupid
You can also register UC3D and get this, and all other UC3D v1 screen savers for the one low price. For more info on UC3D go to:
http://www.UselessCreations.com/uc3d
I've done my best to make sure this is bug free, but if you spot any bugs please let me know.
Enjoy!
---
VERSION HISTORY
v1.2 - 8th January, 2006 - Update
Re-wrote a huge chunk, but you probably won't notice.
Lots of little fixes, including that typo on the settings screen!
v1.1 - 4th January, 2005 - Update
Added countdown to Valentine's Day.
Various tweaks and bug fixes.
v1.0 - 4th January, 2004 - Original Release
Realtime 3D display featuring Cupid shooting arrows at 3D hearts.
Option to display images of your loved one in the background.
Option to display your current desktop in the background.
Load of other configurable options.
Countdown timer to Valentine's Day.
---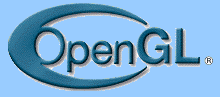 Brought to you thru the endless magic of OpenGL!