This is the WINDOWS version.
Looking for the Mac OS X version? Click here!

Version 1.0 for WINDOWS - 26/06/2007
By
Robert Bennett


Please note: NEVER link directly to the files listed below, always link to this page. These files will move due to bandwidth restrictions, but this page will always have the latest links.
Click here to download!
---
REGISTER NOW FOR JUST US$9.95!
Register now to get rid of all the annoying nag messages that pop up!
The full version also lets you have more dogs at once, and includes 5 dog types, with 25 patterns/colours each!!

There are 2 ways to get the full registered version of this screen saver:
You can register just this screen saver for just US$9.95 and just get rid of the nag-screens from this screen saver, OR you can register UC3D and get full access to all past, present and future UC3D v1 screen savers for the one low price!! Click here for all the UC3D info.
---
RELEASE NOTES
Been a while since a new release with all the crash problems and other annoying stuff going on, but I've managed to put one together that I think is quite nifty!
I like dogs, but I don't have one anymore. Anyway, I figure other people might like dogs too. I know, it's unlikely, but you never know!
So I decided to put a dog screensaver together. The dogs run around your desktop leaving footprints and generally behaving like dogs. There's lots more I could do with this one, but I thought I'd better release it now and see if you guys like it before spending more time working on it. So here it is, and I think it's actually pretty good!
The artist who made the dog models is truly talented, they're very cute indeed, but they're not realistic dog breeds. Just thought I'd throw that out there so you know that I know they're not realistic dog breeds. Sometimes I get some funny questions so I thought I'd head a few off early... :)
The trial version only has 2 types of dogs in it, with 5 colours/patterns. But the full version has 5 different dog types with 25 colours/patterns each! So that's about 100 different puppy dogs running around in the full version!
Anyway, I hope you all enjoy this one. It's cuter than the cutest thing I can think of, which wont be everyones cup of tea, but it's fun to watch anyway!
Enjoy!
---
VERSION HISTORY
v1.0 - 26th June, 2007 - Original Release
Loads of 3D dogs run around your screen leaving footprints.
Full version has 5 dog types, with 25 patterns/colours each! That's about 100 different dogs!
---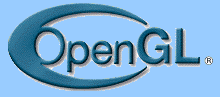 Brought to you thru the endless magic of OpenGL!